Use
Type
Work
Area

Gotemba, Shizuoka
Completed

2019-11
Images

Kawasumi/Kobayashi Kenji Photograph Office
A new hotel built within the Gotemba Premium Outlets.
Adopting the theme at the heart of the Outlets – 'Genuine articles at a reasonable price' – our design offers opportunities to enjoy authentic experiences. Given the Gotemba Premium Outlets' popularity with overseas visitors and the area's views of nearby Mt. Fuji, we also devised ways to offer meticulous service that distills the essence of Japan.
1. Enjoy nature (Mt. Fuji)
Our chosen layout allows the building's facade to command views of Mt. Fuji for visitors to enjoy. We also incorporated nature, including Mt. Fuji, into guest rooms by using an inverted beam structure to maximize window size. A sense of unity with nature was integral to our spatial configurations.
2. Experience Japanese tradition
We imbued the interior with local character throughout by incorporating designs that feature traditional crafts of the Gotemba and Hakone area, Yosegi and Kumiko patterns. To create a Japanese atmosphere, we incorporated elements such as raised seating areas, handmade washi paper, and the custom of removing footwear prior to entry.
3. Experience materials
Emphasizing the use of genuine materials, for the entrance we selected basalt formed by the hardening of lava. Our design enables visitors to enjoy textures and fragrances, including raw timber benches, wooden lighting fixtures, and tables made from trees cut down during development.
Entrance
To ensure views of Mt. Fuji we took steps such as lowering the lounge floor level and raising ceilings to 4m, showcasing the mountain in its entirety upon entry. For the pillars we used basalt, which is formed by the hardening of lava, as a reference to Mt. Fuji's volcanic nature. The walls feature ribbed paneling, with horizontal lines that draw the eye towards the mountain.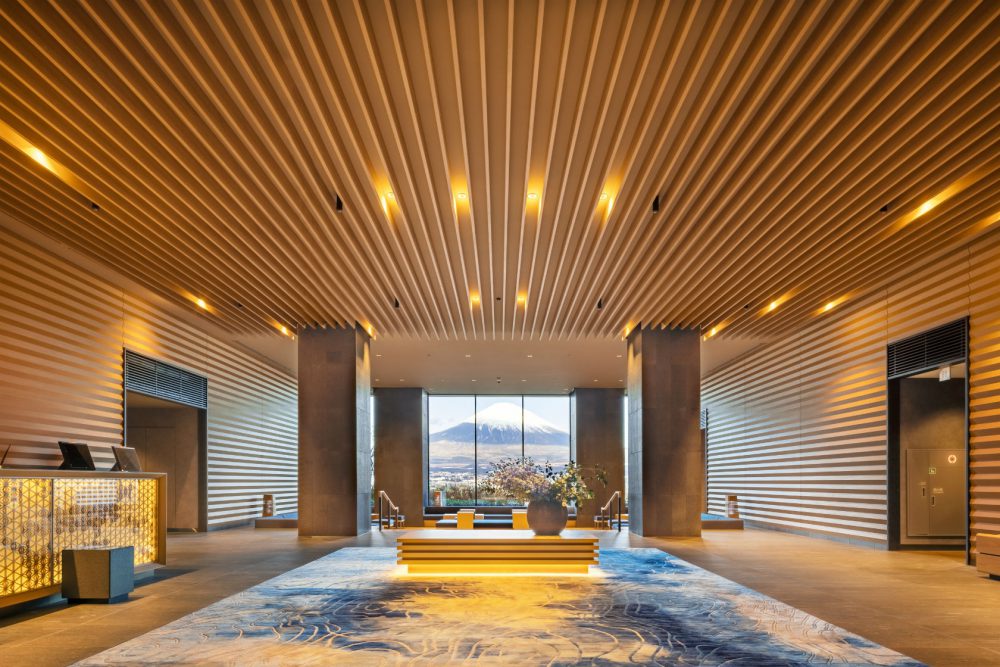 Restaurant
We designed the layout to make maximum use of the broad facade overlooking Mt. Fuji.
Variations in floor level ensure that a view of the mountain can be enjoyed from any seat. The simple configuration gives prominence to natural materials – clay, wood, and washi paper. Main flow lines are emphasized with original Yosegi marquetry flooring.
We ensured that Mt. Fuji was the space's focal point by elevating ceilings near the windows and lowering their height at the rear by installing latticed ceilings, accompanied by walls of layered clay with a rammed-earth finish. Japanese-style spaces with raised flooring also feature lowered ceilings, creating a relaxed atmosphere.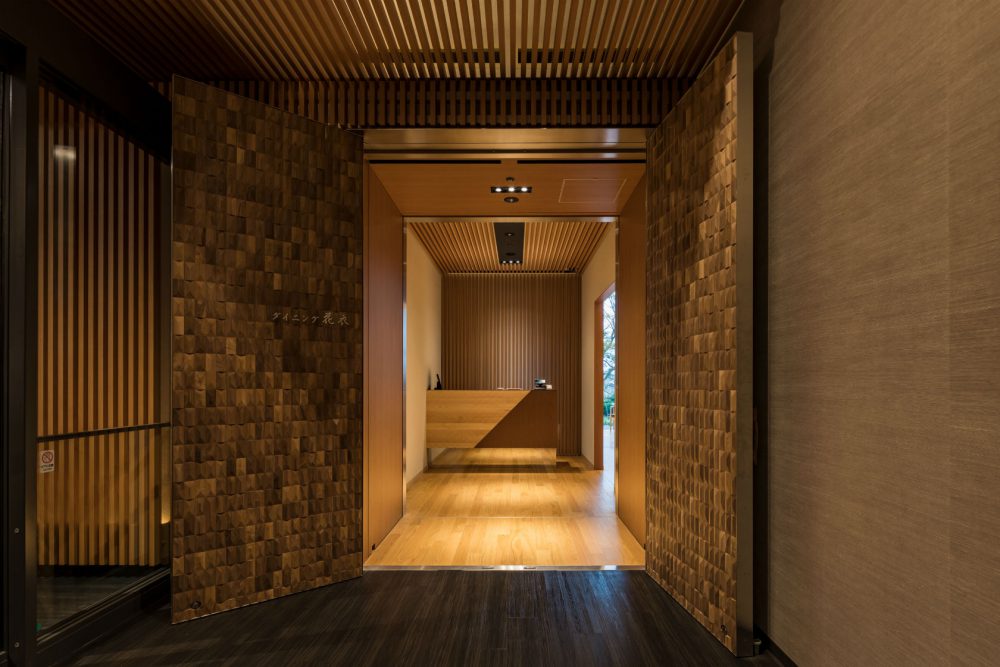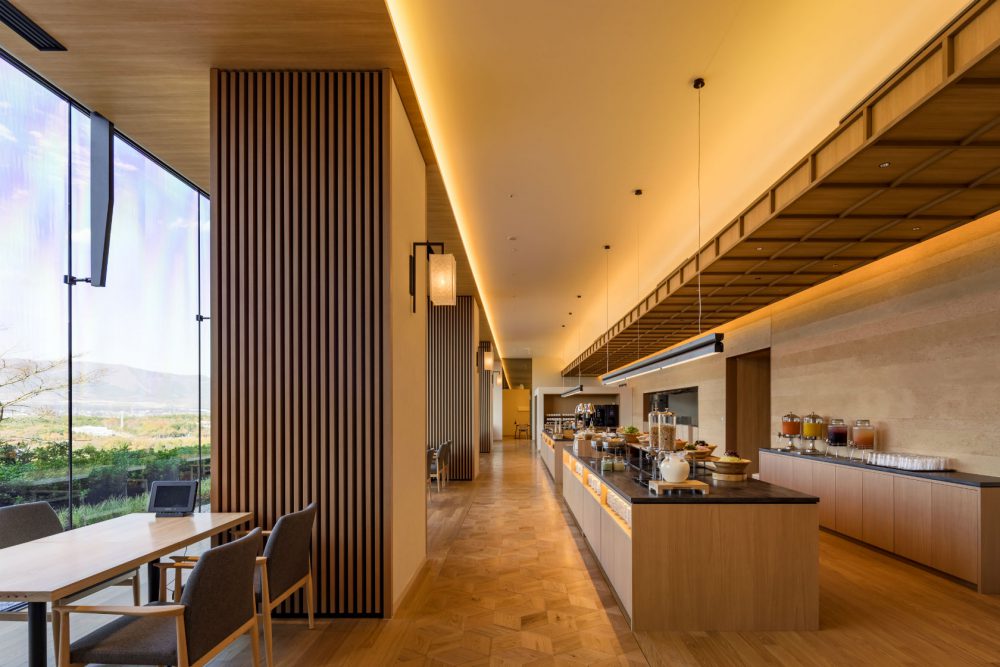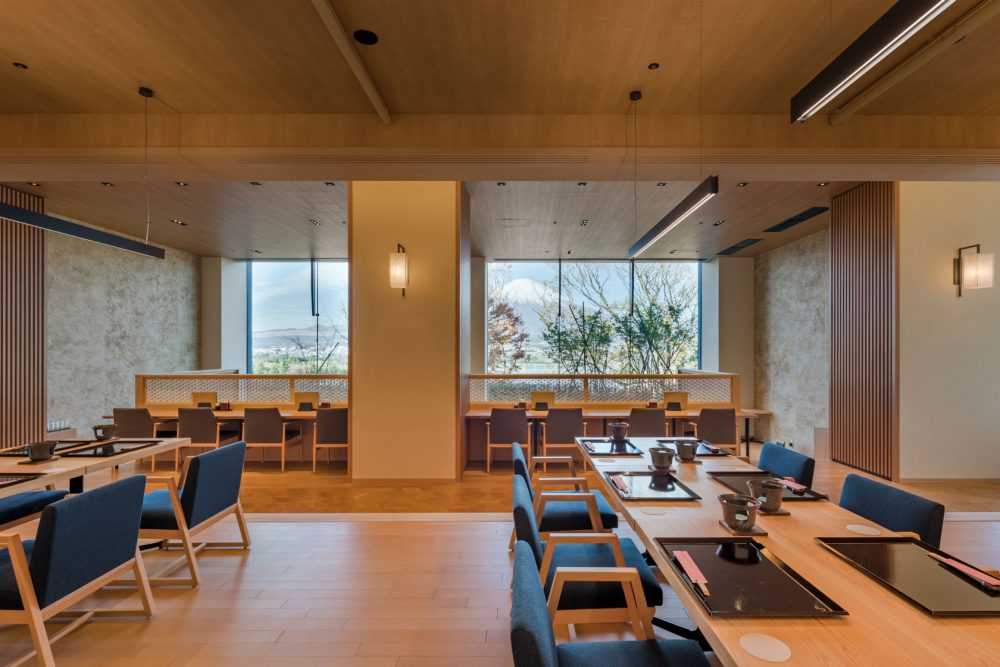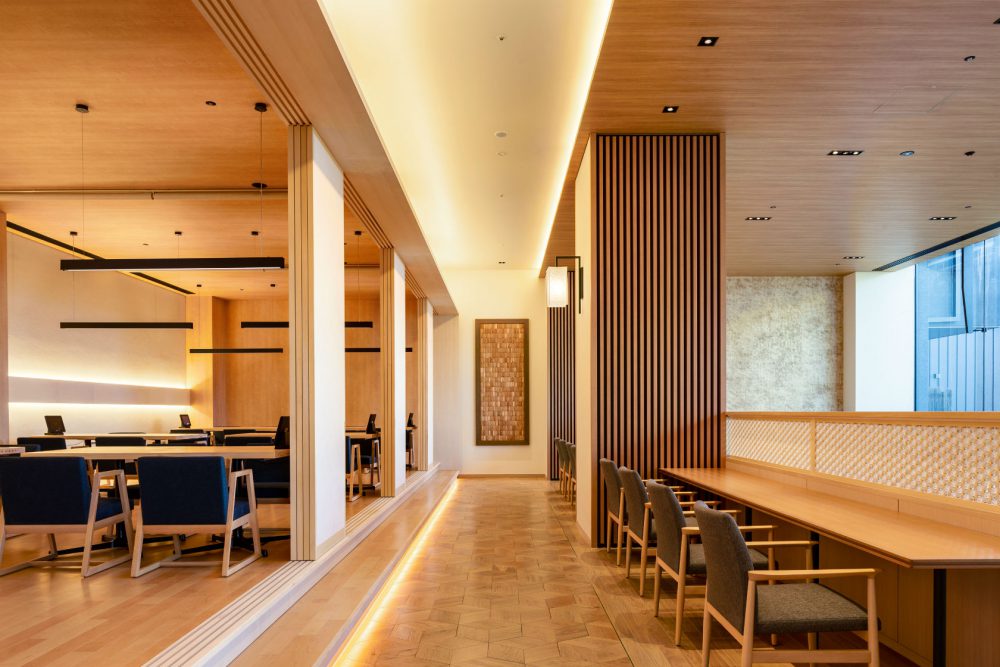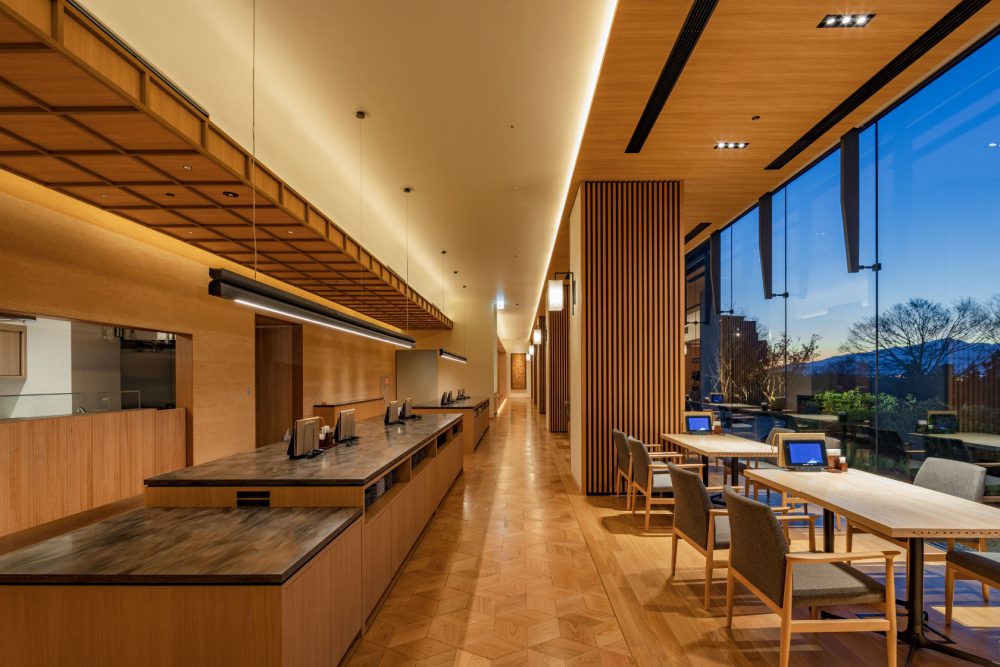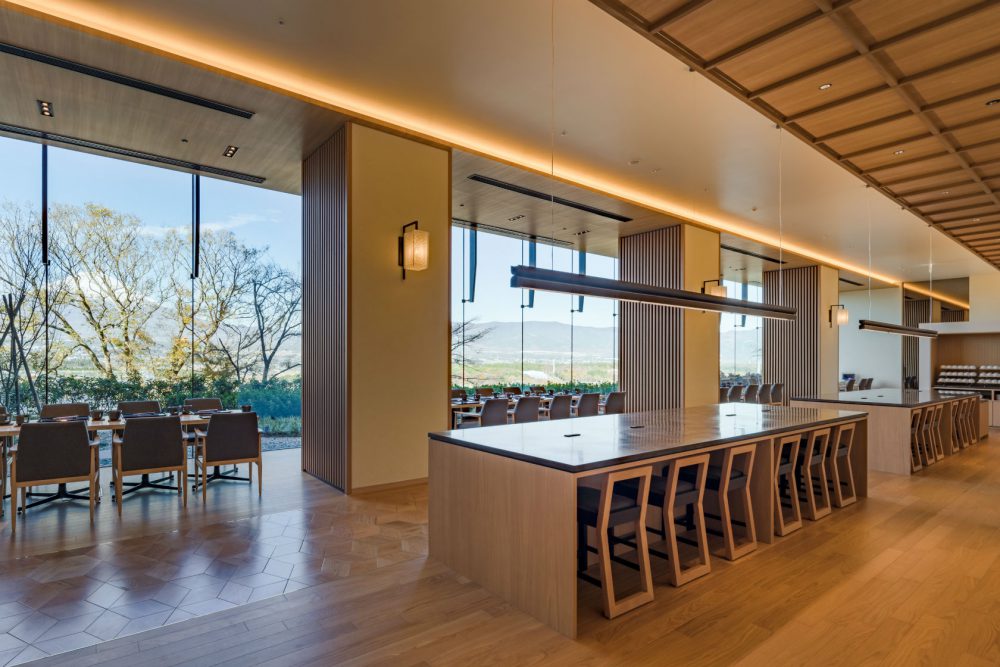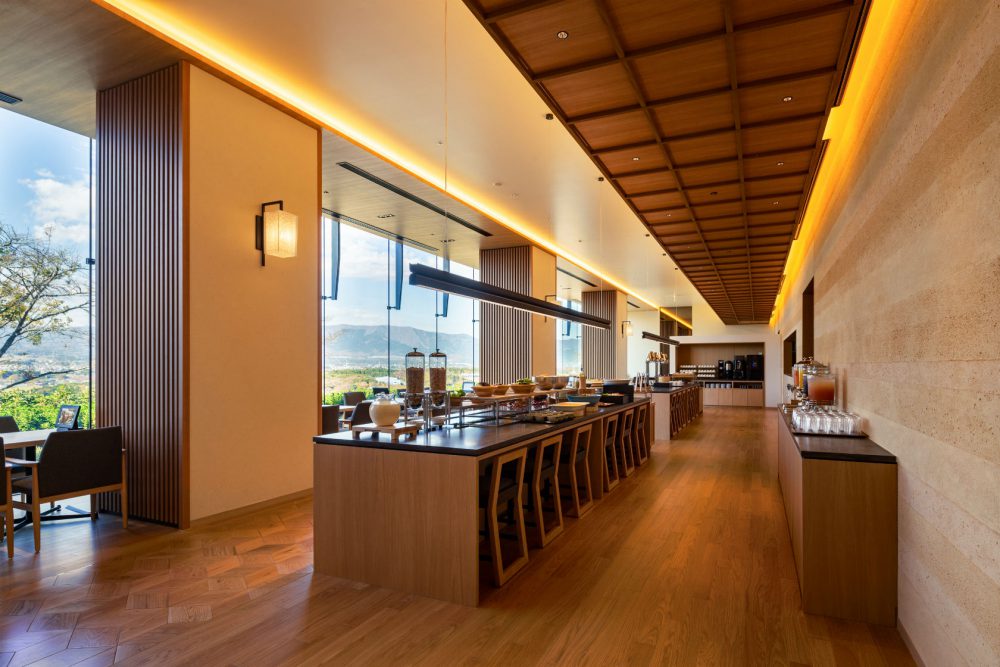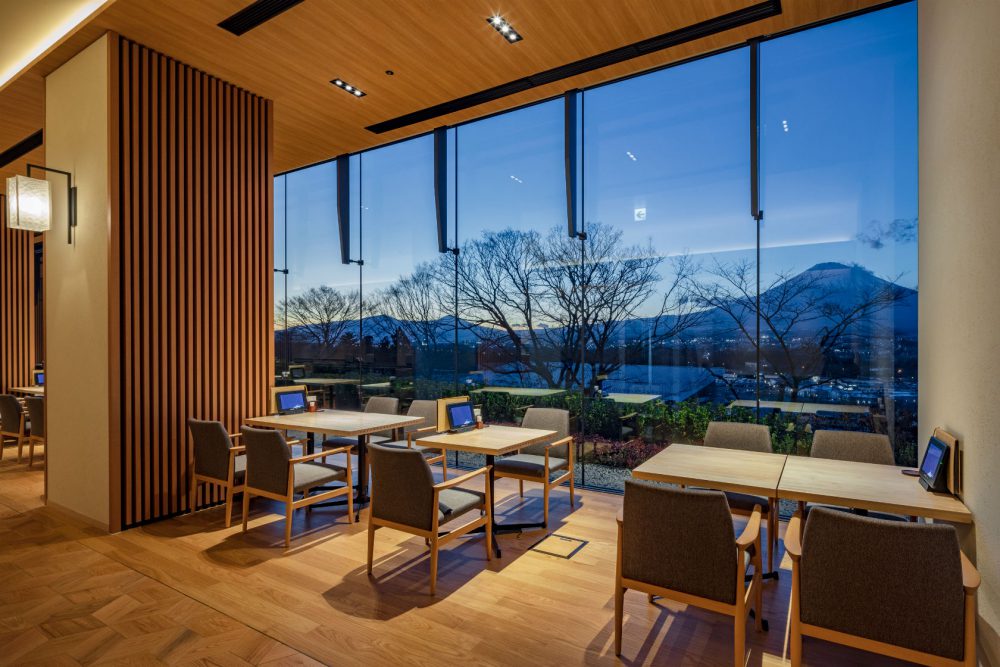 Guest Rooms
The hotel offers a total of 182 guest rooms, most of them twin size, in two different types – Mt. Fuji View or Forest View.
Rooms are tailored to the diverse needs of customers, with modern Japanese-style rooms that feature raised flooring and western-style rooms that can accommodate three guests.
All rooms evoke local character and Japanese style throughout, including washi wallpaper, Kumiko-pattern carpets, and original lighting fixtures with contours representing Yosegi designs.
With washbasins and open closets located near the entrance, room layouts are designed to offer a compact yet expansive feel. The use of shower cubicles contributes to the rooms' expansiveness, while also creating a special ambiance through the addition of rain showers.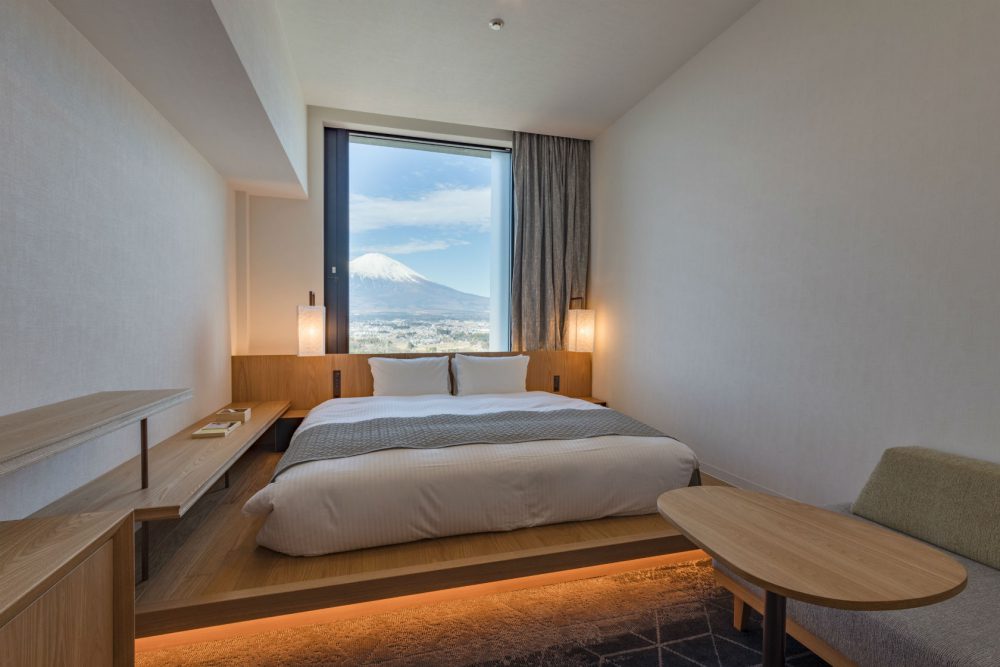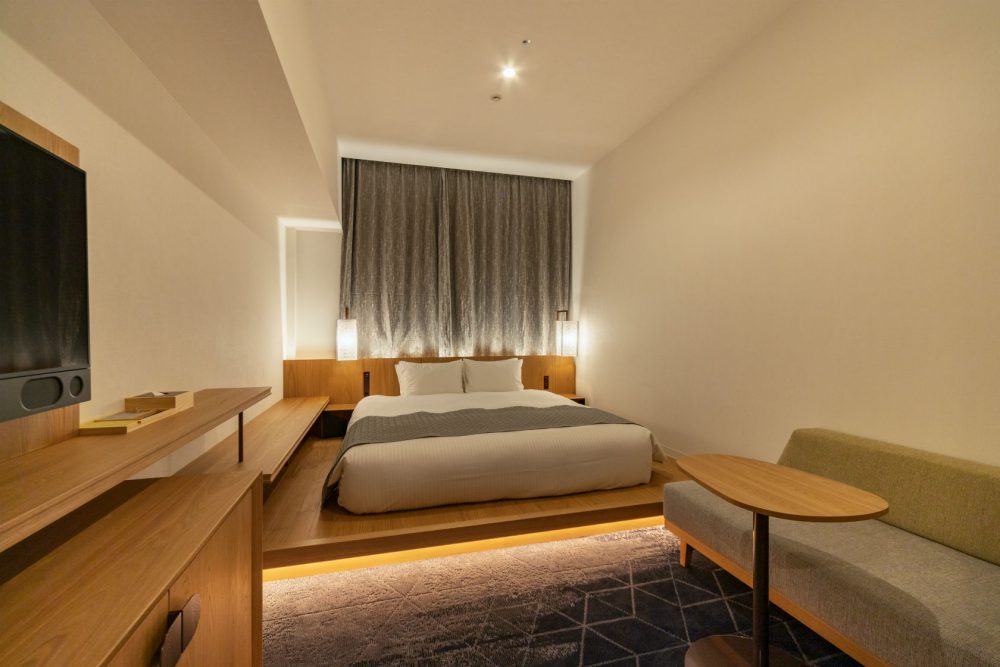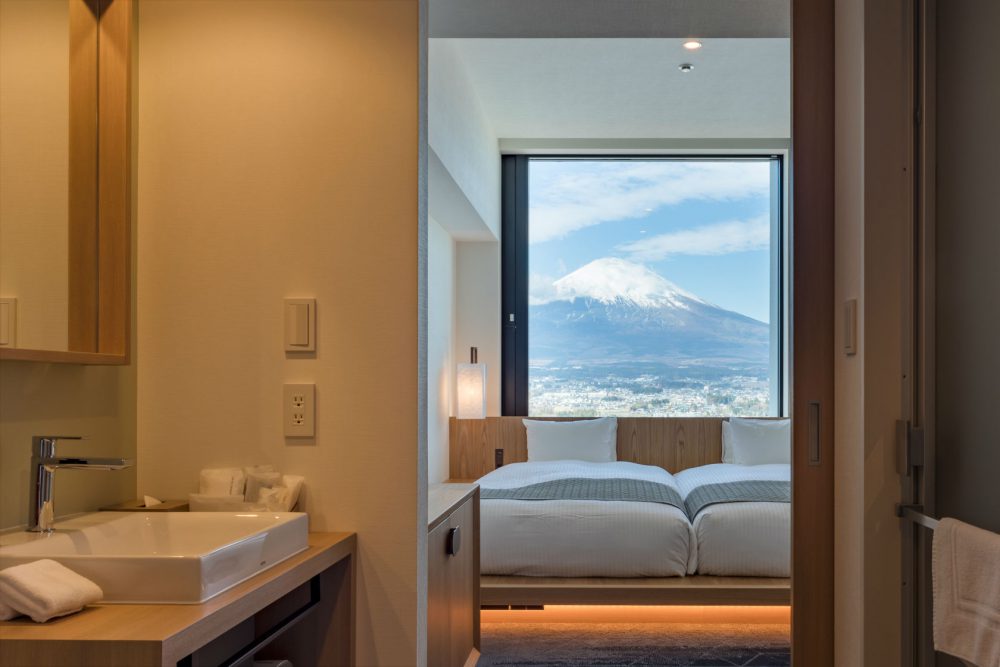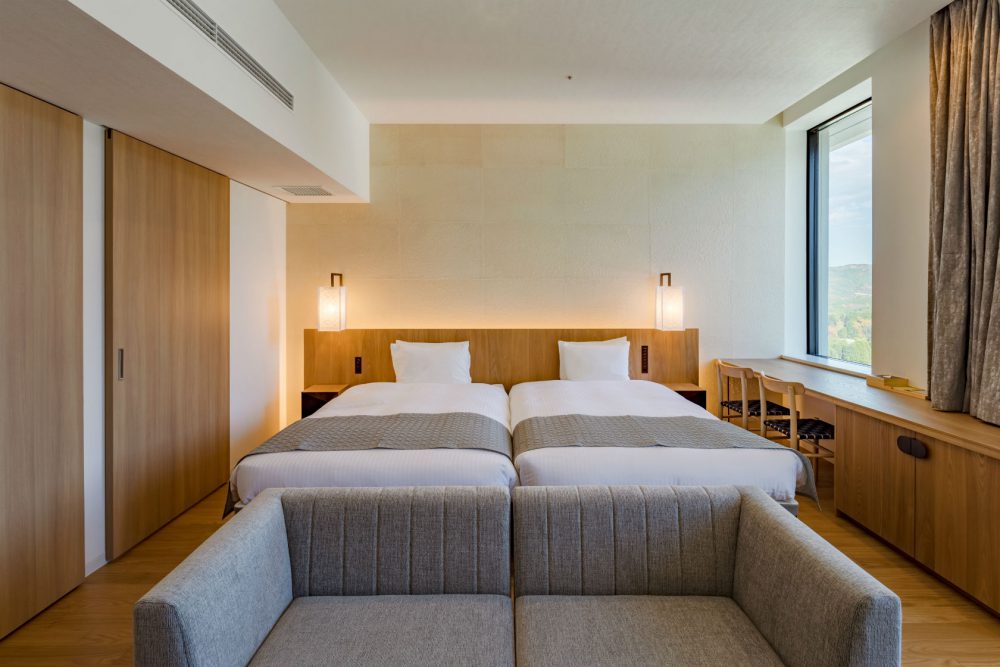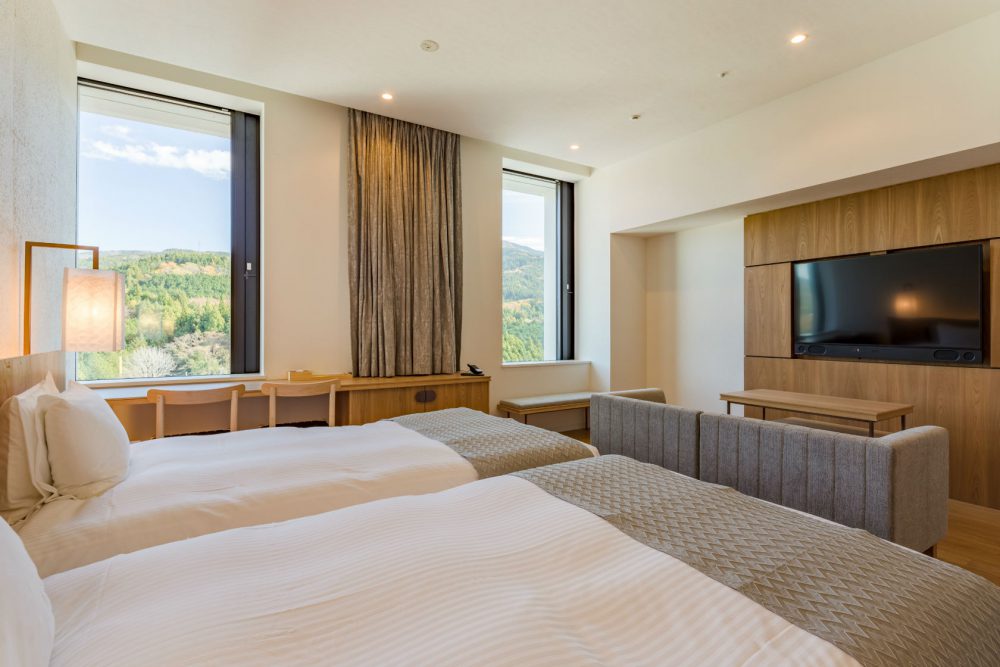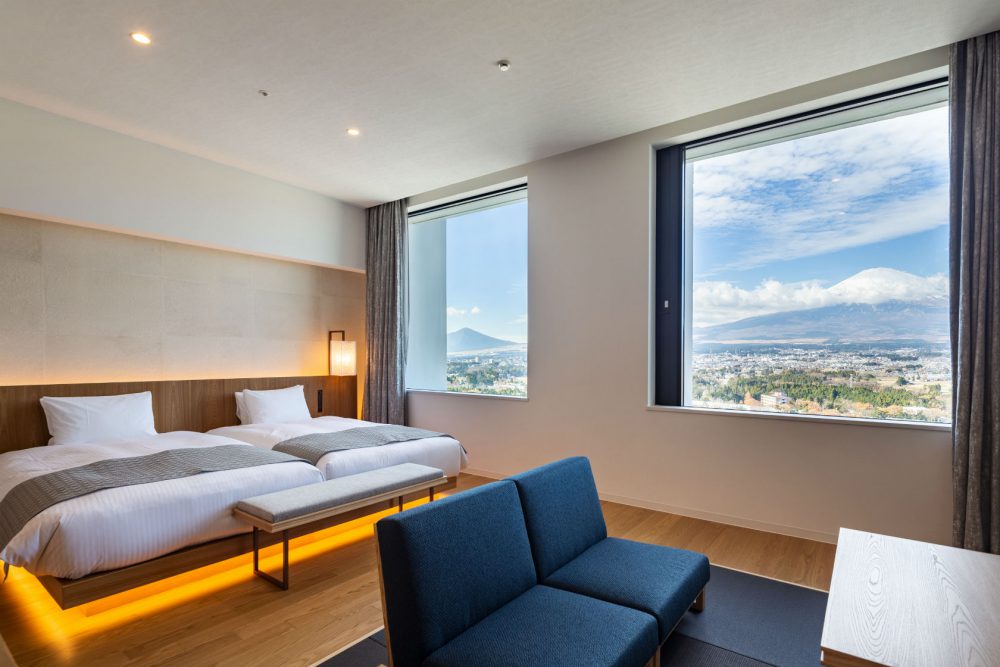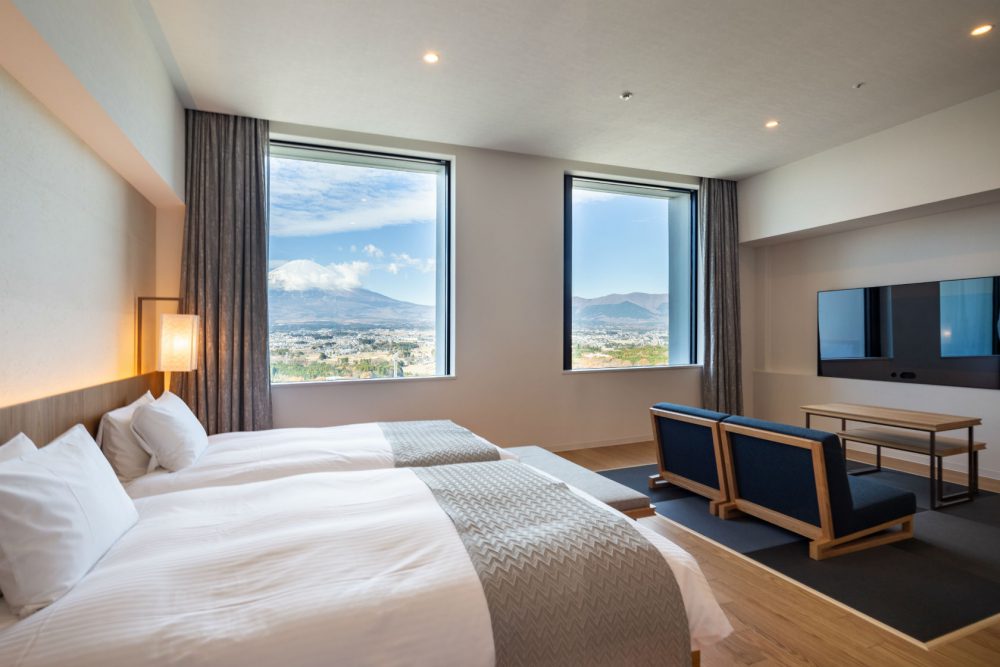 Concept Rooms
Working with the Gotemba Premium Outlets, we set up concept rooms in collaboration with apparel brands.
Each brand provided design direction for room interiors and furniture, creating spaces that embody the brand's worldview and offer guests an opportunity to try their products and services.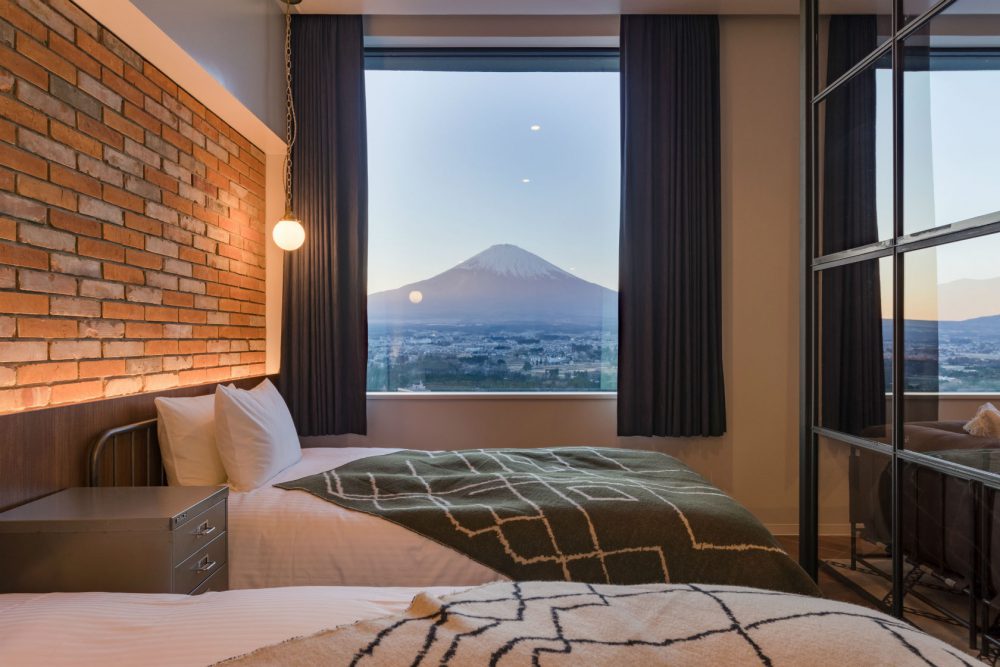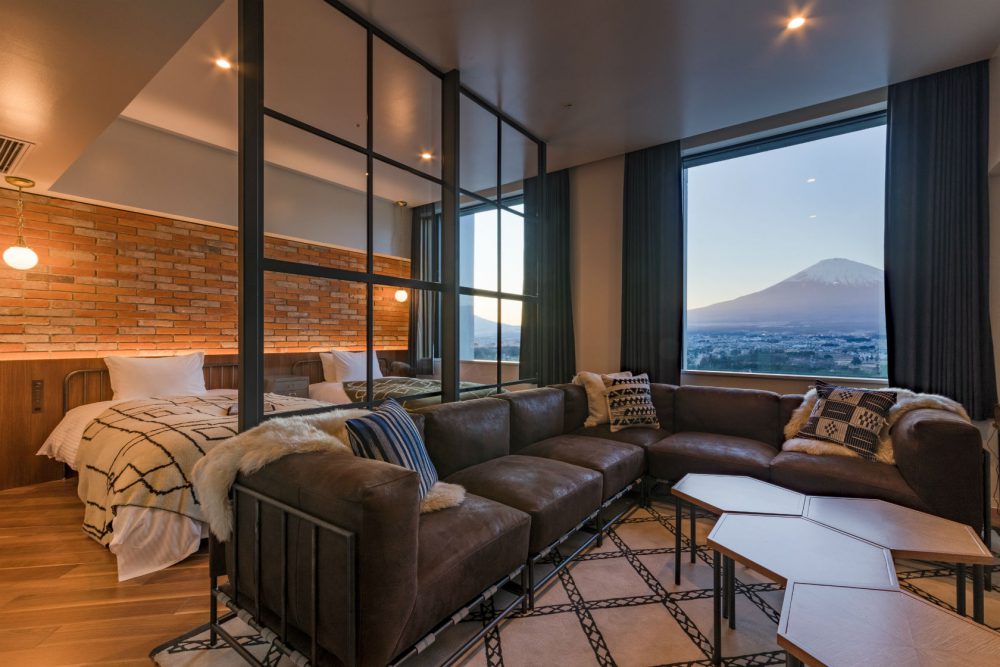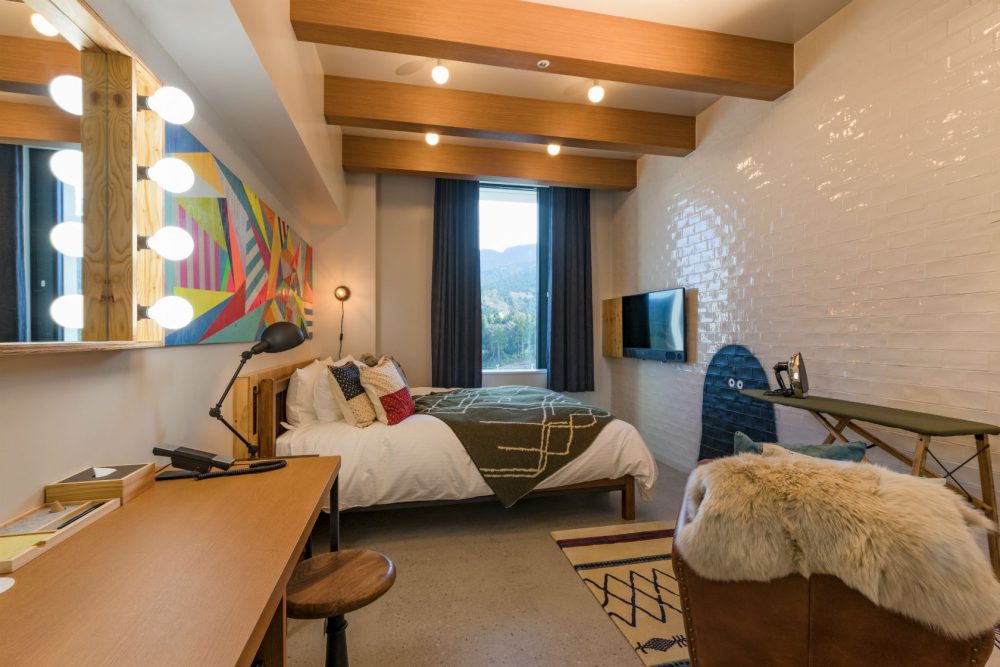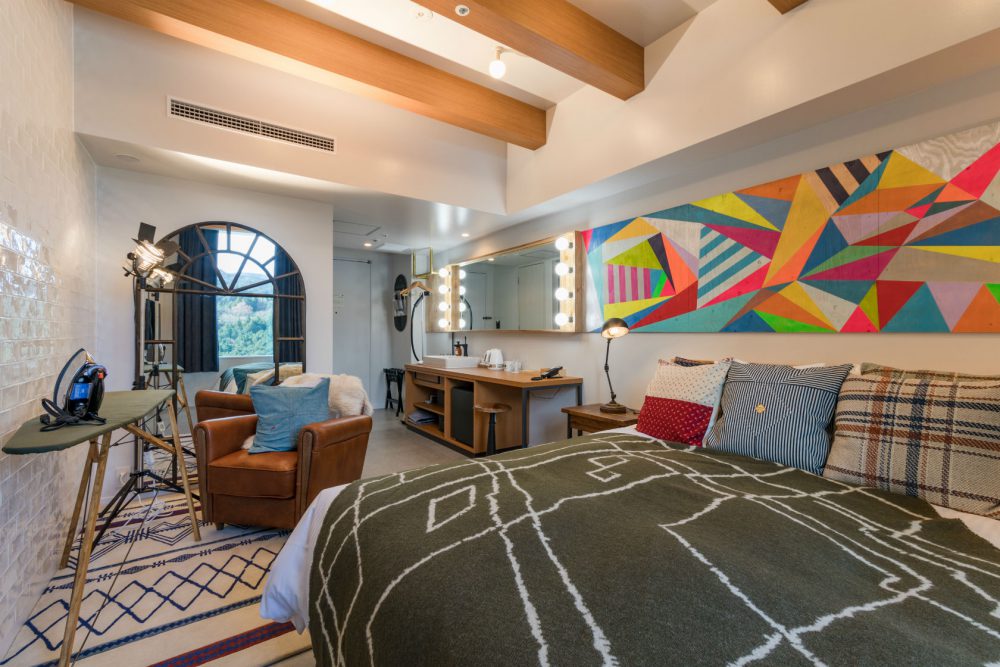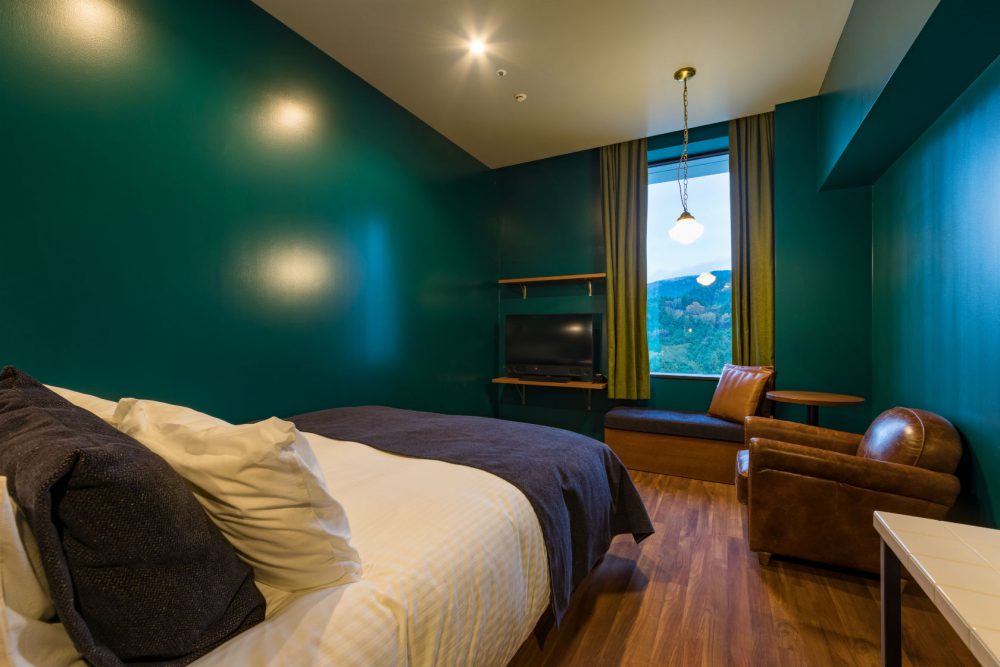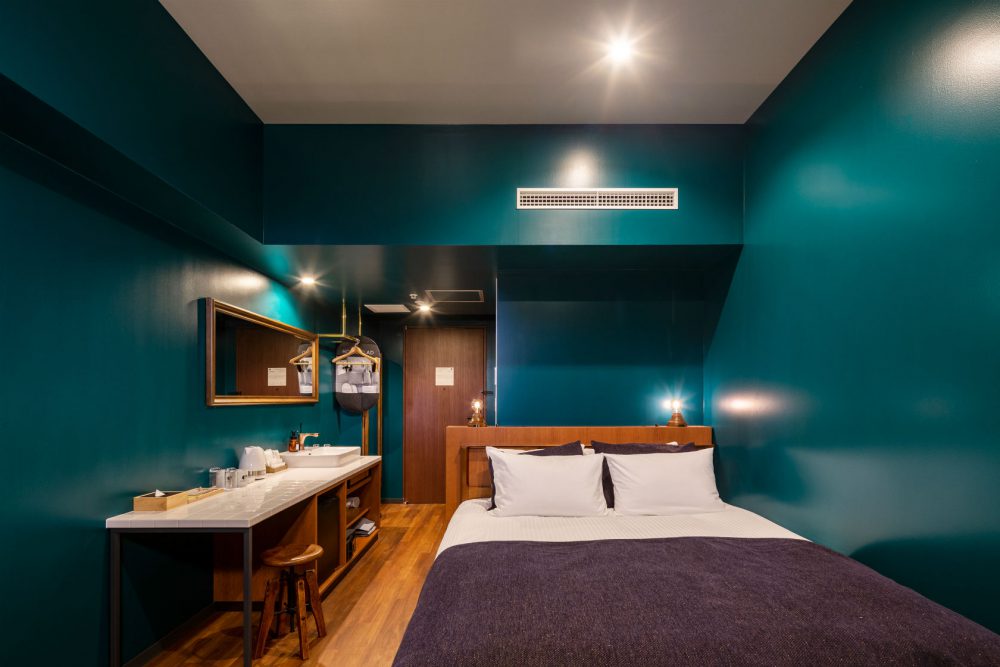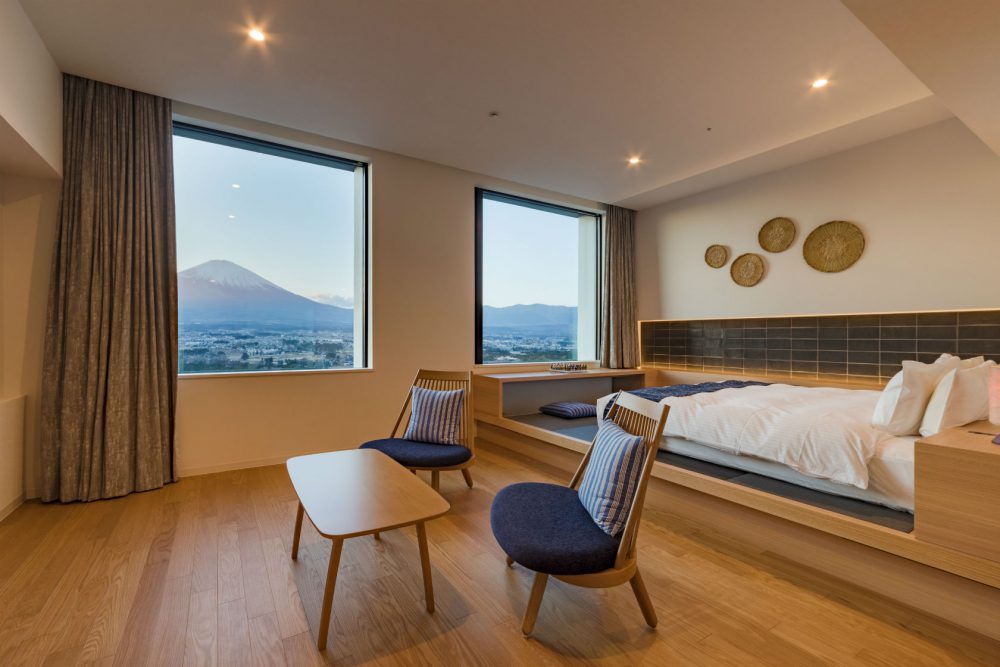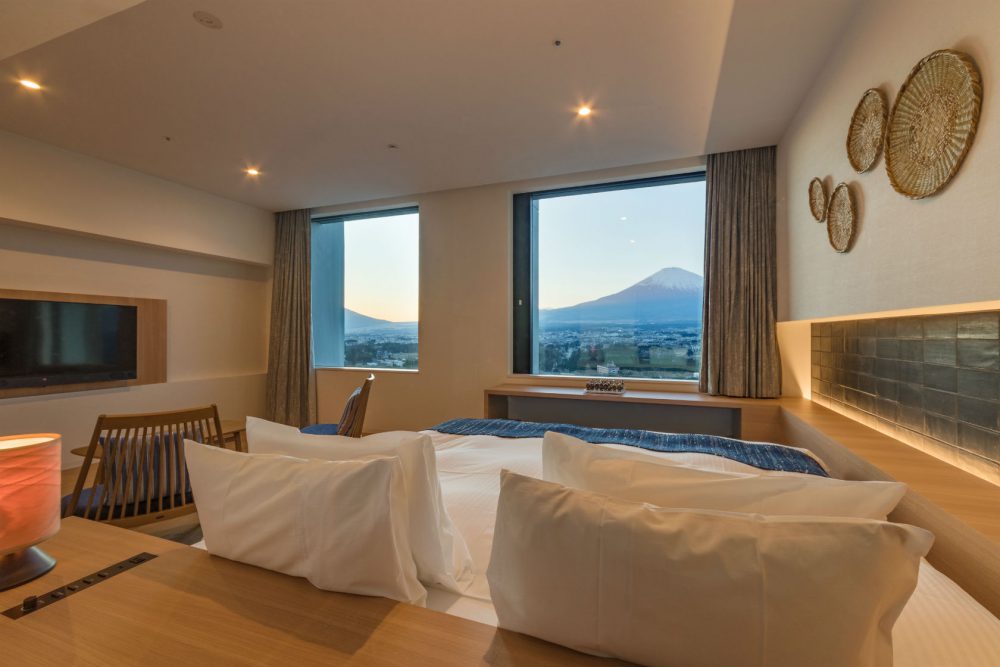 ■サイン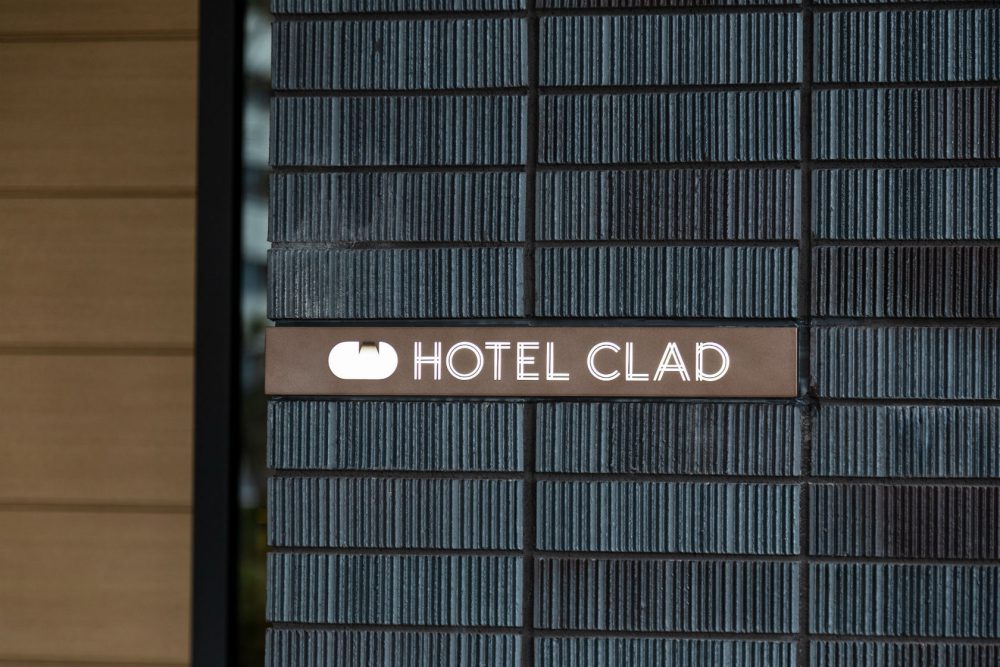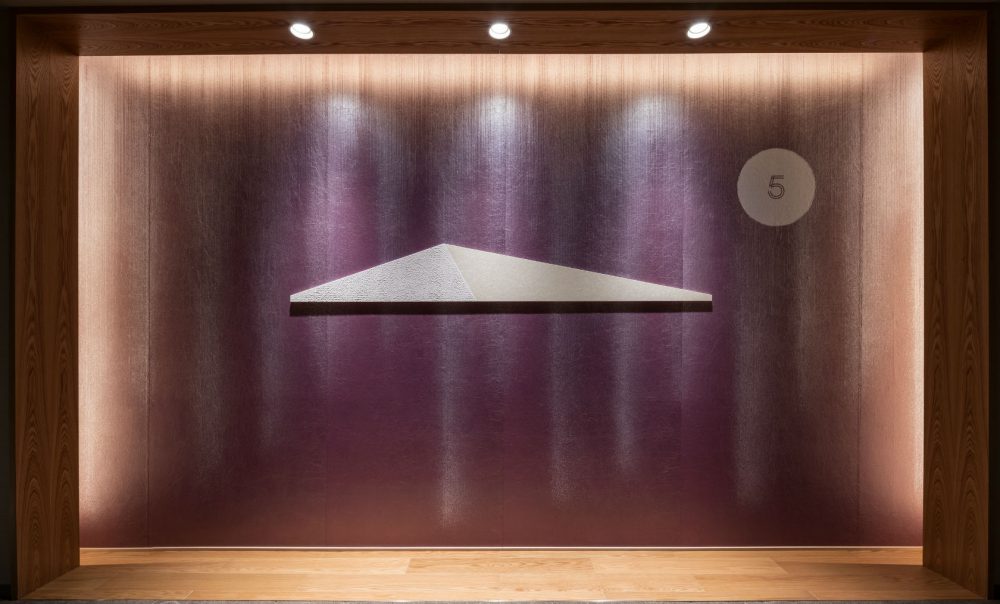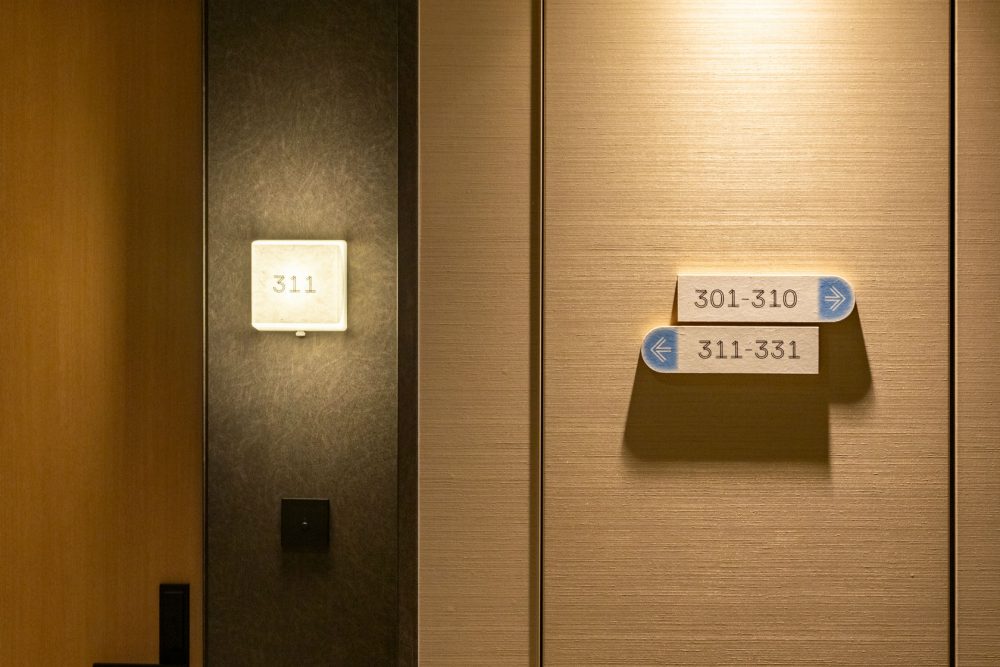 ■外観